Adjustline
Our standard editions, called Blueline and Blackline, have been an integral part of the Wilbers Adjustline group for years. It is important to know that the two colour options actually only differ in appearance and not technically. While the Wilbers Blueline is delivered with blue springs, red rebound and spring preload adjustment units and red/blue compression adjusters, the Blackline has black springs and silver adjustment units. Both editions are individually manufactured according to customer specifications, have a 5 year factory warranty and an ABE. Alternative RAL colours of the springs for further individualisation of your desired shock absorbers are available at extra charge!
The production of the Adjustline, like all suspension products of our company, is individually manufactured in our factory according to customer specifications and intended use.
Possible shock absorber types Ø 36 mm:
Possible shock absorber types Ø 46 mm:
Individuality from the beginning to the end.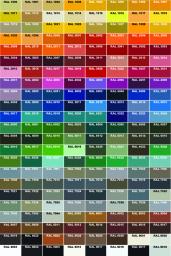 Many customers have special wishes when choosing springs and that is why we now have the possibility to choose all RAL colours in addition to the black (Blackline) and blue (Blueline) springs.
More INFO about the possible RAL colours is available here!